Summer is finally upon us! Yay!
As an occupational therapist, summer is my favorite time of year for students to get some real great outside time, sensory play, and motor practice in. So much growth happens over the summer, and its amazing to see how they change coming back to school in September.
I want to share my favorite summer activities with you.
As parents, you're naturally doing so many of these things already. Getting to the beach, park, and playground. Really mastering the bike riding, jump rope, monkey bars, and swim strokes. Learning how to lick around an ice cream cone and catch the drips, spit watermelon seeds and cherry pits. Teaching your kids to make your teeth into "lawn mowers" and mow the rows on the corn cob so that they're even.
Here's a few more to throw in your bag of tricks!
Flashlight Tag – This reminds me of my manhunt days. Being outside awakes the senses! This can be an incredible sensory experience for everyone. For younger kids, a more confined space with an adult nearby and some cool flashlights can get the whole family involved.
Homemade Popsicles – Get out those kitchen tools! A lettuce knife or a crinkle cutter is a kid-friendly tool to help chop up some seasonal fruit, put in the blender, and freeze into molds.
Paint Outside – At this time of year, you'll find an easel on my deck. This is the time to get messy, when a hose is nearby and cleanup is easier. A blue tarp can be helpful, or a plastic backed tablecloth works, too. Get a big roll of butcher paper, or large sheets of easel paper. Paint with hands/feet/whole bodies. Add shaving cream, or bubble soap. Incorporate kitchen sponges, potato mashers, scrub brushes, slotted spoons. Go jump in the kiddie pool afterwards.
Chalk – From a motor perspective, there is so much more work that goes into designing the driveway. More force to apply on the chalk, more feedback from the concrete surface, bigger movements to make lines and curves – its all good stuff for little bodies. At our house we make an obligatory hopscotch board, a racetrack for ride on toys, and parking spaces. At the end we bring out the water bottles and wash it all away.
Turn on the water!
Car Wash – Wheel the bikes and Cozy Coupes into a sunny spot and grab a bucket and sponge. Better yet, let them wash your car! Hoses, squirt bottles, and towels are all helpful, too.
Paint the House – I keep a stash of small adult-sized brushes around and let my kids "paint" with water. Totally drench the side of your house, their play house, the deck, whatever. It keeps toddlers busy while you supervise the construction crew. Let it all dry in the sunshine.
Water Balloons – Next time, freeze them (without throwing them at a sibling, ouch!). Let them thaw in a shallow storage bin, or water table. Let the kids add warm water, food coloring, etc. Freeze containers of water and float figurines on different shaped "ice bergs" and see who lasts the longest. If its really hot, put it all in the bathtub or kiddie pool.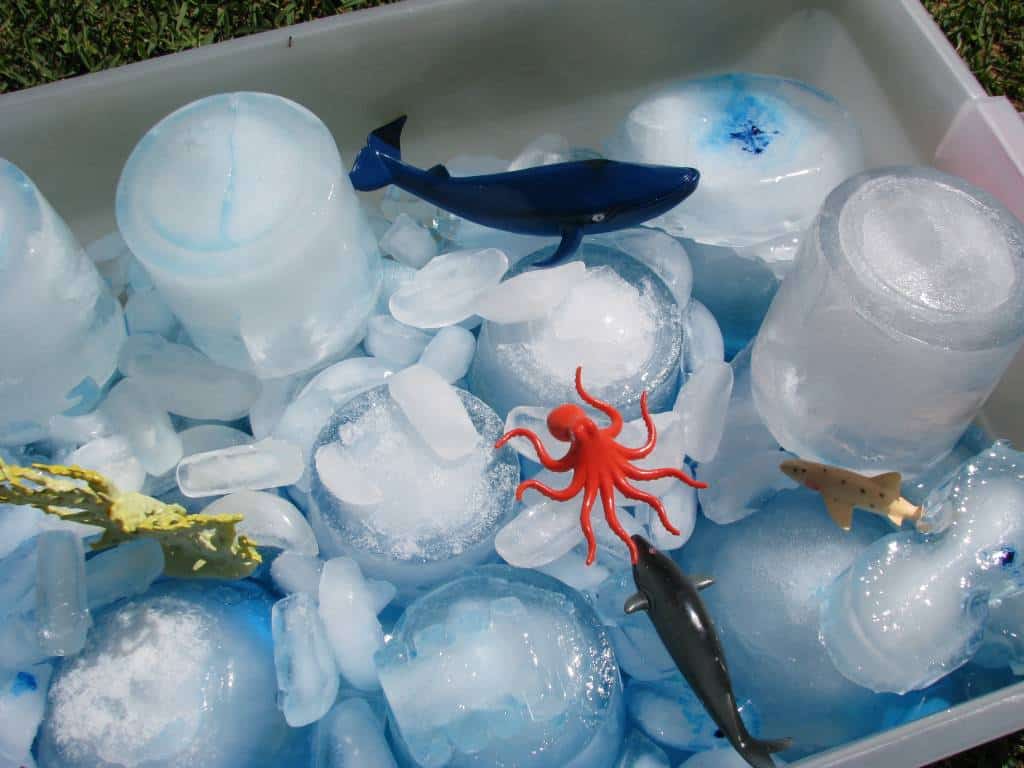 Spray Bottles – These are my all time favorites. The small beauty department ones are a good size for little hands. To be honest, anything with "gun" in the title freaks me out, so I steer clear of the water guns. Most stores now carry spray toys in the shape of anything. We have ice cream cones, dinosaurs, and fish in our stash right now. Plain old spray bottles are still the favorite of every kid in my backyard. We water plants, knock down plastic cups from the deck railing, spray our friends (with permission) and make "paint" in the street.
Summer is sensory. For all of us. Go have fun with the kids!